Review learner course activity including course completion status, monthly active users and activity performance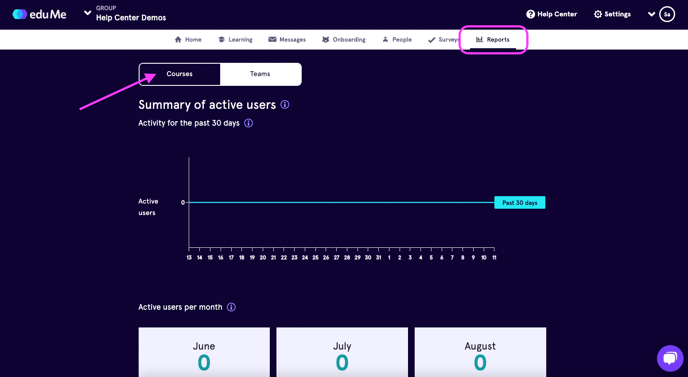 Note! Active users are those who have accessed at least one lesson in the course

Tip! Lesson and quiz scores take averages across learners' first attempts on a quiz. Additional attempts are not included in these figures
Assessments
For Assessments with a minimum score, you will see the number of of learners who have ATTEMPTED the Assessment (those who have passed or failed), the number of users who have COMPLETED the assessment (only those who have passed), and the AVERAGE SCORE across all attempts by all learners who have completed the assessment
For Assessments with no minimum score, you will see the number of learners who have PASSED the assessments and the AVERAGE SCORE across all attempts by all learners who have completed the assessment
Click 'Download report' to see individual learner scores, per attempt, in a CSV format. Correct answers will show as 100% and incorrect answers will show as 0%

Surveys
For Like/dislike surveys, you will see the percentage of learners who gave a thumbs up 👍 or thumbs down 👎 in response to the survey question
For Multiple choice surveys, you will see the percentage of learners who chose each response
The total number of interactions with your survey are provided at the bottom of the card. If you selected to include free text responses, you'll see how many learners provided these; click 'Download free text responses' to view detailed answers

Team activity
The bar graph shows learner completion stats for individual teams
You'll see here the total number of users enrolled in the course (for that team), and how many users have Not started, are In progress or have Completed the course
The lesson completion figure shows the percentage of lessons that have been completed, out of the total number of lessons available in this course, for this team
You can also see a quick snapshot of how many users Started or Completed the course on the previous day
Admins can download a report of course activity for each team by clicking the Download report button. Choose the All time option to include users who have Not Started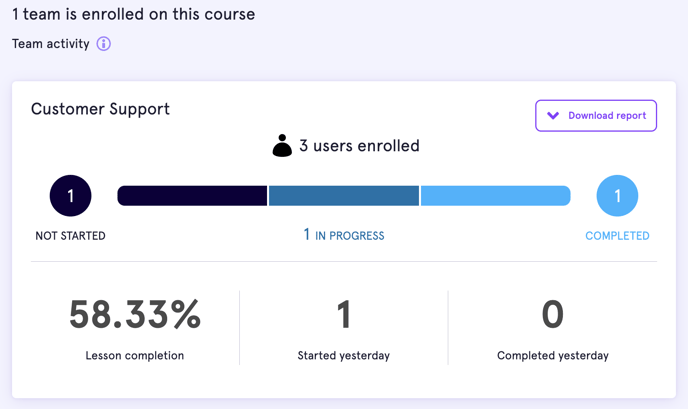 Course CSV report
For each course, you can download a CSV report of all learner activity. Here, you'll be able to view:
Unique learner details (first name, last name, email, phone, user info, identifiers, user activation date)
Learner's assigned teams
Course completion status, including start and completion date/time
Individual activity scores (for lessons and assessments taken more than once, the best score is shown here)
Overall course score
Downloading course reports
To download a CSV course report:
Click 'Download group report' from the Course activity panel
For predetermined date ranges, select from:

Last 7 days
Last 30 days
Last 60 days
All time (this includes learners who have been assigned a course and have Not started)
To choose your own date range, either:

Type your date range in dd/mm/yyyy format OR
Click the start and end date for the range you'd like to view data for
Individual User Reports
Admins can get full information regarding a user's activity and progress across the platform. You can access this in the Users section in the People tab.
Each activated users course stats and activity can be downloaded in .csv format
The csv will contain

One header row
One row per course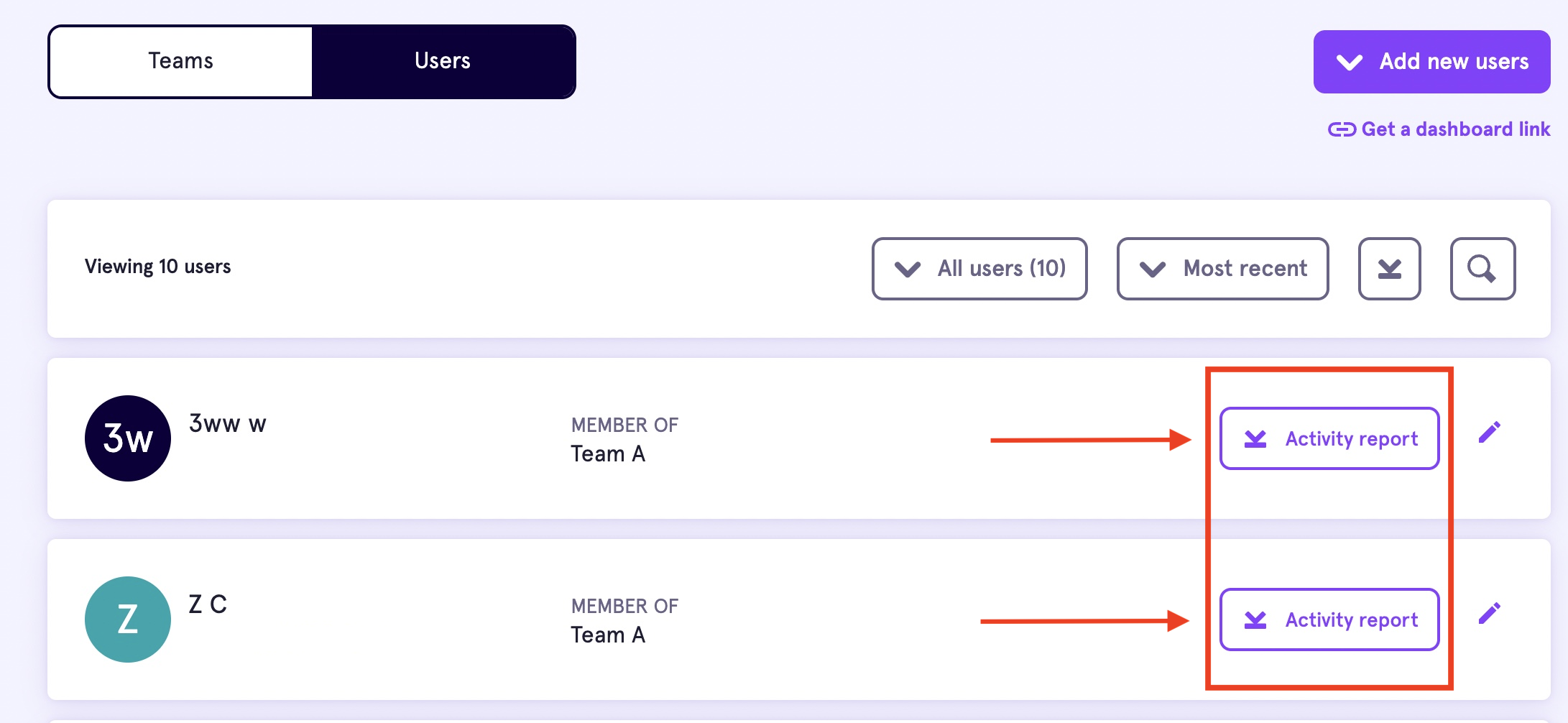 💡Speak to your Customer Success Manager for more detail regarding the individual user reports feature
---
FAQs
Q: Can I see course reports for unpublished courses?
A: No, you can only view reports for published courses in the Reports tab