Learners will find Flashcards on the app Home tab, as well as within courses. Flashcards are ideal for building on knowledge or reinforcing key information.
To help you get started, we offer a ready-made Flashcard which you can use as it is or edit to add your own content for a personal touch.
Flashcards are unique to a specific course, so you'll need to create a course first. If you don't see an option to add Flashcards, get in touch with us at 'support@edume.com' (though please note that Flashcards are only available for app users).
---
Getting started
Go to the Learning tab in your admin panel

+ Add a course or View course

Select the Flashcards tab

If it's your first time creating a Flashcard, click Create card or choose No thanks if you'd like to create your own
---
Using the ready-made Flashcard
Click on the sample Flashcard and select Edit (the pen tool) in the top right-hand corner

Select either Edit flashcard or Delete flashcard (once deleted, it can't be restored)

If editing, you can delete the template image and add your own image/video, as well as editing the title and main text

Make sure to Save changes, and you're done!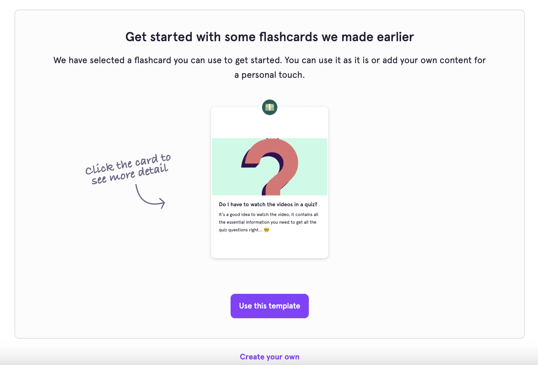 Flashcards will be immediately available to learners once your course is published, so only click Create card when you're ready to share
Creating new Flashcards
Click the '+' to the left of the existing flashcard

You can click Example under the first two cards if you'd like some ideas!

Select Blank

Click Next

Add image or video

Image (600 x 300 px recommended) 2 x 1 ratio & less than 2MB

Upload a video (less than 25MB) 480p or 540p resolution

Embed a video link (YouTube URL)
TITLE FOR YOUR CARD (OPTIONAL) click in the box and start typing

MAIN TEXT click in the box and start typing. You can use formatting and add hyperlinks in this box, click on more tips for formatting rules

Create card
Please note for video Flashcards we recommend short 30s-1m clips at low quality for the best learner experience.
Accepted image file types; jpeg, png, gif
Accepted video file types; MP4, mov