Personalise your eduMe account with your brand to make your learning tool instantly recognisable to learners.
What's covered
Setting up a landing page for web users
Where will my branding be visible?
---
How do I set up my branding?
You'll need a few things in order to set up your branding on the eduMe admin panel. Once you have the below ready to go, just email support@edume.com and we'll get you set up 🚀
A high-resolution logo. This should be in both light and dark colours, and ideally in vector format—if you have .svg or .eps files this is best, but we can also work with .jpeg and .png files
Primary brand colours. We'll need your HEX code colours for both light and dark backgrounds. We can include up to four brand colours

for group level branding, we can include up to 6 HEX code colours.
Setting up a landing page for web users
Create a fully branded experience for learners accessing Self Sign Up pages with your own copy and imagery.
Landing pages can be customised at a group or team level
To set up a landing page, here's what we'll need from you:
Header copy. Keep this short and focused – we recommend no more than 20 characters
Main body copy. Give your learners some context with an engaging introduction to the course – we recommend no more than 200 characters
Image or block colour. This should be landscape and as large as possible (but aim to keep the file size to less than 600KB). We recommend using images with no text. Alternatively, we can use a block colour here; just provide us with the HEX code to set this up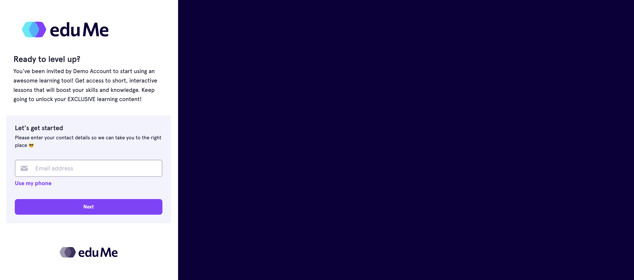 Where will my branding be visible?
Your company logo will be visible to learners when they access certain content, for example when signing in through a SSU link or via the eduMe app.
You'll also see your logo in the top left corner of the admin panel.
Company level and group level brand colours will also be visible to learners at various points through their learning journey, including their course landing page, Learning Dashboard and in slideshow lessons.