The eduMe and Fountain integration allows you to seamlessly share learning content with your applicants.
What's covered
How to set up the Fountain integration
Setting up eduMe courses in Fountain
Adding an eduMe stage to your Fountain workflow
Editing eduMe Courses within the Fountain flow
Using eduMe assessments in Fountain
---
How to set up the Fountain integration
Reach out to your Fountain CSM or support@fountain.com to enable this feature on your account
Once this has been enabled, contact your eduMe CSM or support@edume.com to request your API key and Account ID
Go to the Fountain page. Hover over your username on the top right and click Integrations
Click on the Screening tab in the left-hand panel, then click the Connect button to the right of eduMe
Enter your eduMe API key (34 digits) and Account ID (32 digits separated by dashes) then click Save Changes
*Note: the API key provided by eduMe for the Fountain integration is separate to your eduMe account API key.


---
Setting up eduMe courses for Fountain
In order for eduMe courses to be available in Fountain, you must first create a course via the eduMe admin panel. Once you have your course created please follow these steps:
Go to the People tab and click + Create a team
Name this team 'fountain', please note this

must

be all lowercase
If using multiple groups, please ensure you have a 'fountain' team for each group
Go to the Learning tab, click into your chosen course and head to the Delivery tab
Click Assign to teams, (or assign/unassign teams if you already have a team assigned to this course) and select the 'fountain' team. Click Update
Click Publish course from the top right corner
Once your course has been assigned to the 'fountain' team and published, this will be available in the drop down selection of the partner stage in Fountain.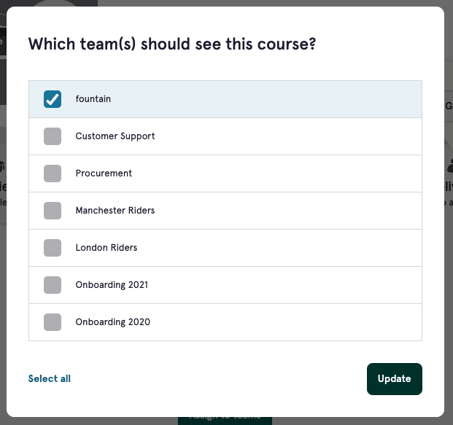 Please note: only one Fountain team can exist in each group
---
Adding an eduMe stage to your Fountain workflow
You will now be able to add eduMe content at Course or Lesson level as a partner Stage Type within your Fountain workflow. For full instructions on how to set these up please take a look at this article from Fountain.
To see recently published or updated courses or lessons please click Refresh options from eduMe.

From your drop down under Stage Option Type list in Fountain, select your required course or lesson. They will display as;
Group | Course

Group | Course | Lesson Title (lesson ID)

When setting Partner Rules for a lesson, select 'Partner status is', then specify the rules you'd like to set up.
---
Testing the workflow
We always recommend testing the workflow before going live with applicants.
To do this, you will need to test the setup with an email address that is unique (i.e. not already existing as an admin or learner on eduMe)
---
Editing eduMe Courses within the Fountain flow
You may wish to make updates to eduMe courses within your Fountain workflows from time to time. Here's how you can do this:
When you make changes to eduMe courses, the completion status of existing/past applicants may be impacted
Therefore, we recommend duplicating the relevant course(s) and working in the duplicated version before publishing and assigning to team 'fountain' as a new stage
Set up a new eduMe partner stage in your workflow(s) so that new applicants go through the new version of the course, while those who are 'In progress' in the original course are not impacted
Once a course is no longer required, you can remove this from the Fountain workflow and unpublish it. We'd recommend keeping it assigned to team 'fountain' so that you can still access relevant data if required
---
Using eduMe assessments in Fountain
Create a scored assessment using the eduMe assessments feature to test your learners' knowledge.
Setting a minimum score
If you need to make sure your learners have reached a certain level of understanding before progressing, you can set a minimum score. This can either be set in eduMe or Fountain depending on your preferred outcome:
1. Allow learners to retake the assessment until they reach the minimum score.
This is set in eduMe.
In your eduMe admin panel, head to the course you'd like to edit and open the assessment
Click on the final slide (Results slide). Here, you'll see the option to toggle 'Has minimum score' on or off. Switch this on
You can set a minimum score between 0 to 100 and include your own pass/fail messaging
Click Done to save
In Fountain, make sure Partner status is set to Completed
2. Exclude learners who do not reach the minimum score from your selection criteria.
This is set in Fountain.
In your eduMe admin panel, you'll need to create a separate course with a standalone assessment. Do not set a minimum score in eduMe
Add your assessment as a new Partner stage in your Fountain flow after the initial eduMe course
Set rules for your assessment Partner stage to create minimum score behavior, e.g. 'Partner detail has key with value' / 'Greater than or equal' / '80' & 'partner detail has key with value' / 'less than' / '80'
---
Need help setting up your integration? Your eduMe and Fountain Customer Success Managers are on hand to help, or get in touch with our support teams at support@edume.com or support@fountain.com