Send courses via text and email, directly from the eduMe platform
eduMe delivery methods allow for seamless delivery to learners, with no activation or password setup required. You can deliver via SMS and email from within the eduMe platform.
In the admin panel:
Create your course
Assign teams to the course
Publish your course
You will see "Deliver this course" button. Click on it and the delivery window will open up. Select the teams to notify.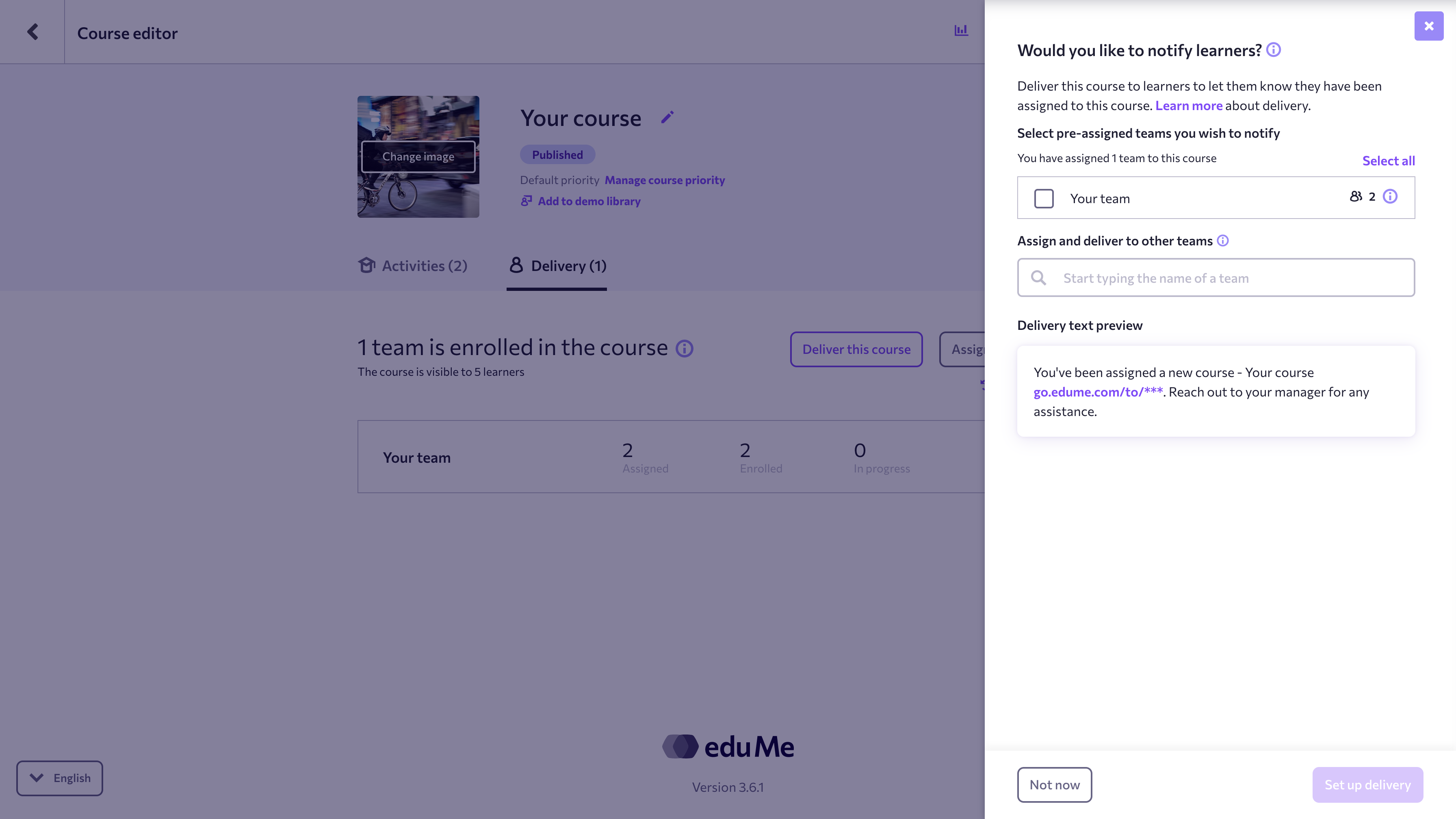 If you don't see the teams you want to notify in the list, try searching in the "Assign and Notify" window. Teams selected from this search will also be assigned to the course once you set up a delivery.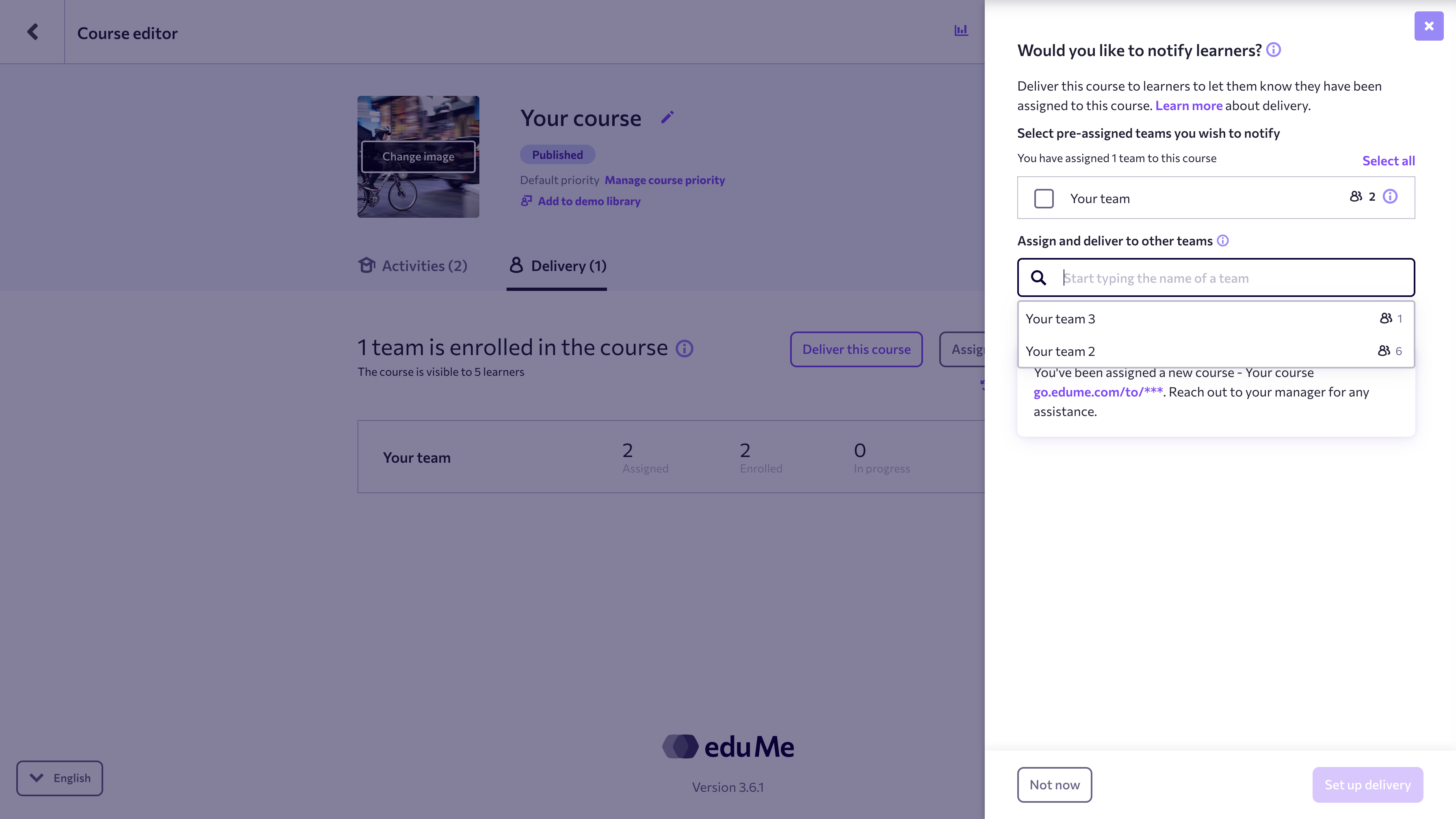 If you don't have any users yet, add them manually in People tab or provision them from an HRIS such as Workday
When you're ready to send messages, click "Set up delivery" in the slide-out.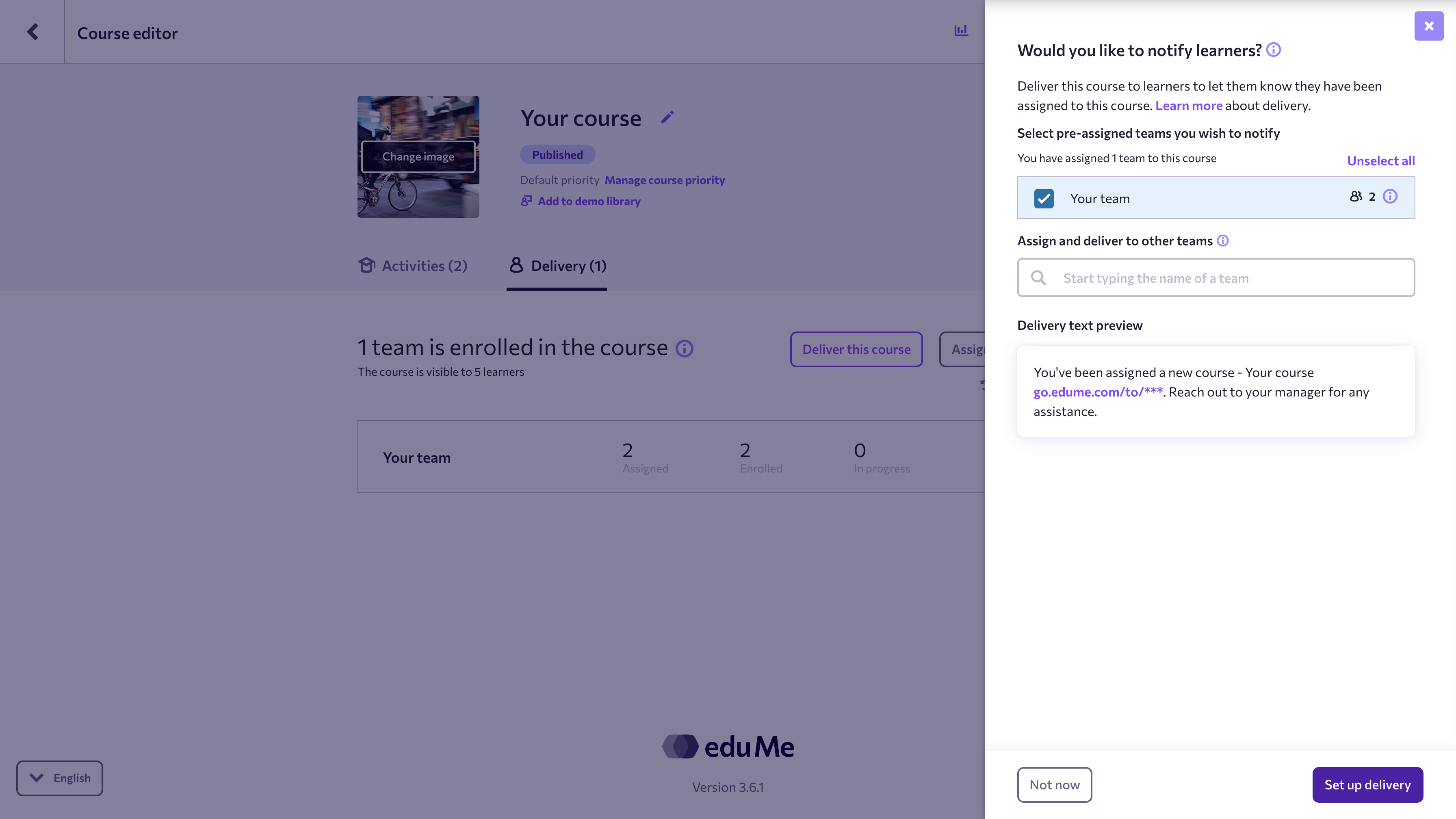 You will then see a screen that explains how many messages you've sent. Your learners will receive messages within an hour.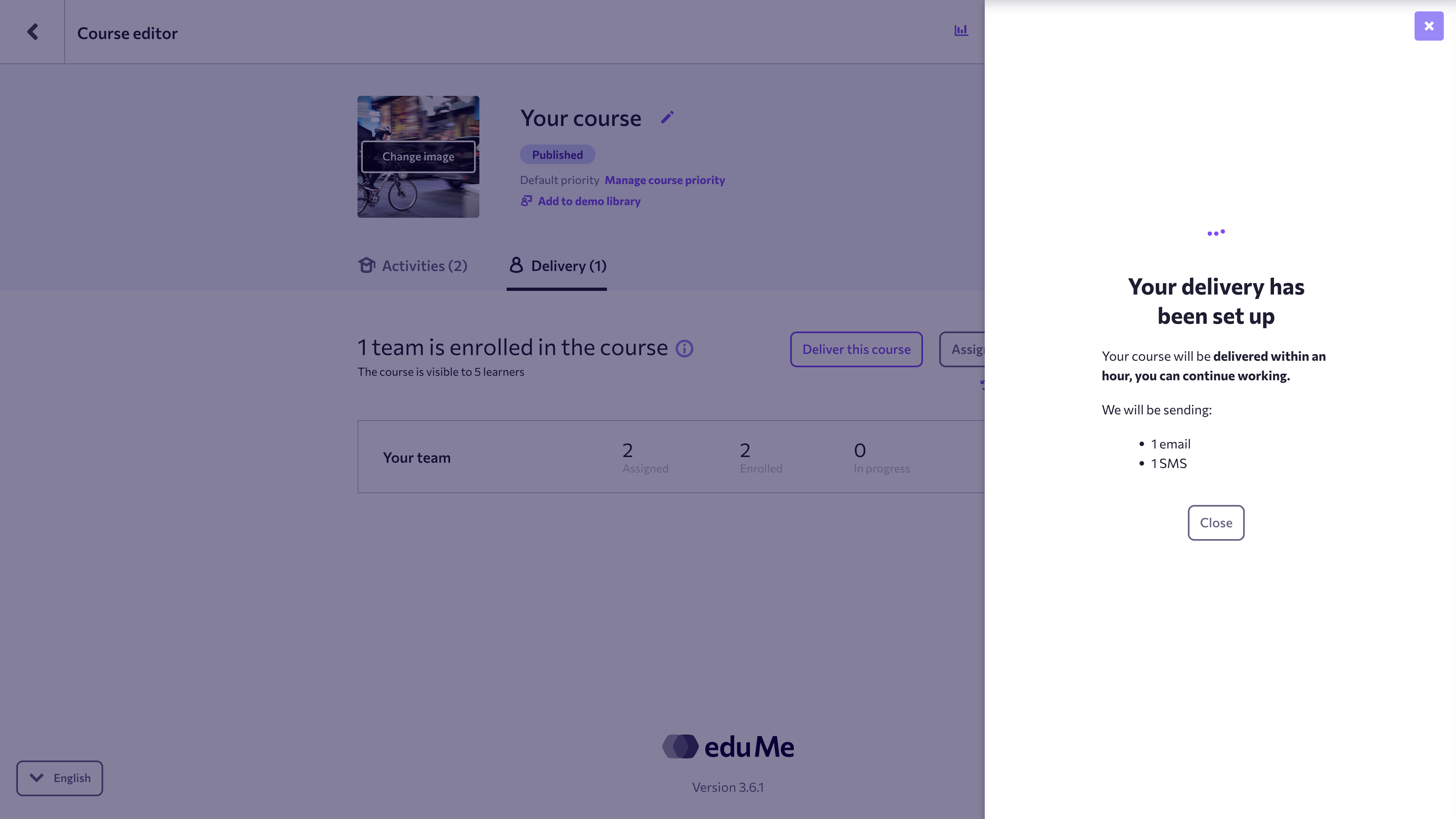 You can continue using eduMe in the meantime.
To send the course again, go to the Course -> Delivery -> Deliver this course.
Teams who have already received the course through SMS and email delivery will have a purple information icon next to them. Please note, it is possible to send multiple notifications of a course.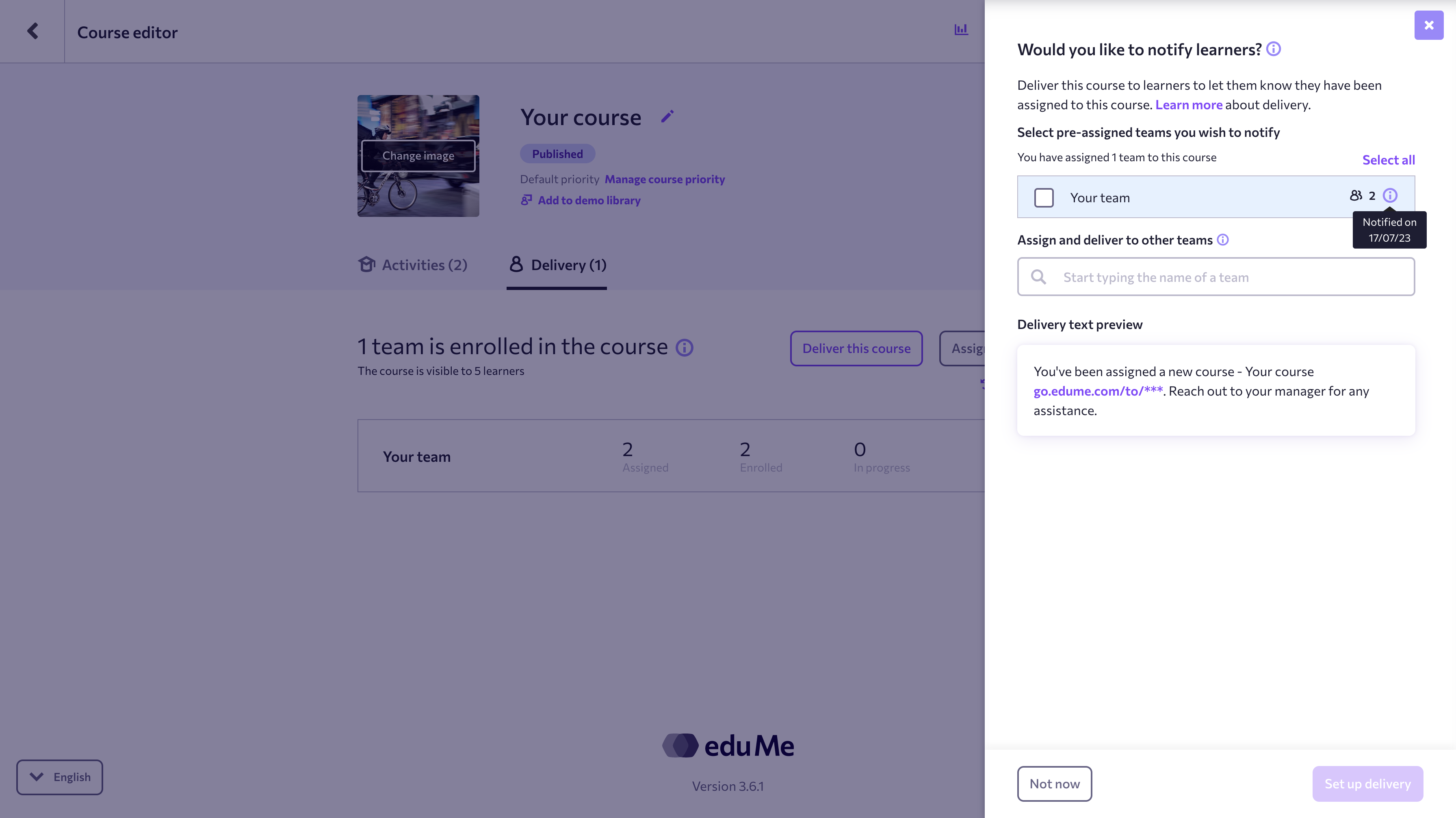 How does it work?
Your teams will receive a message notifying them that this course has been assigned to them.
The message will be sent through the channels linked to their profile in the People tab. For example, if we have their phone number, we will send them an SMS. If we have their email address, we will send an email.
New learners will receive a default welcome message along with the course link.
What will my learners receive?
Each learner will receive a templated SMS or email containing a unique seamless link that will take them straight to the course.
What if I prefer to delivery courses via SMS but some of my learners only have provided email addresses?
Unfortunately, we can only send SMS to learners who have specified phone number, and emails to those who have specified email address. If you have both contact details in your HRIS or a different form, contact your CSM and they will help you upload new contact details for learners.
What does it mean if I have undeliverable messages?
If you have undeliverable messages, it means that we were unable to deliver the course to some of the users in your team. This could happen if these users don't have any contact detail provided in their account. To troubleshoot, please visit People - Users - and check whether all of your users have either a phone number or an email address in their profile.