Learn how to set up the Microsoft Teams-eduMe integration for your organization.
Installing eduMe
Download eduMe app from Microsoft Teams store.
The following screen appears when you access eduMe for the first time in Microsoft Teams.

Select Find out more on edume.com.
The Microsoft Teams & eduMe Integration page opens.
Fill out the form you see on the page to allow us to set up the integration.
Note: If you're an existing eduMe customer, reach out to your customer success manager to integrate your eduMe and Microsoft Teams accounts.
We'll work with you on setting up your Microsoft Teams-eduMe integration.
Granting Permissions
When eduMe is first accessed in your organization's account (through Microsoft Teams), we'll ask you to grant eduMe the following permissions: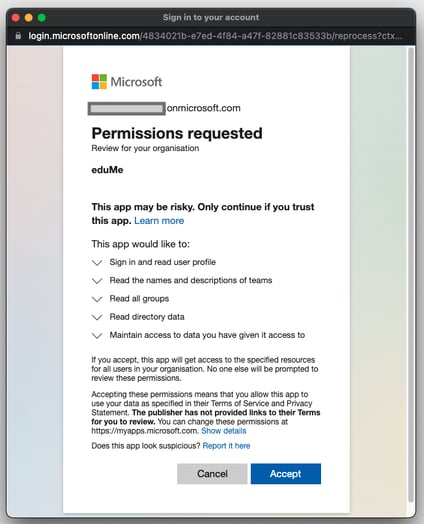 These permissions allow us to read your Microsoft Teams team structure, so that you can assign courses to users based on their Microsoft Teams team membership. This permission is only required when first installing the app, and only needs to be granted once.
Select Accept to proceed.
As an admin, you can now view the admin panel. You've now set up the integration and are ready to create your first lesson for your learners.
Related links
Integration of Microsoft Teams with eduMe