You can link and unlink BambooHR trainings with eduMe courses, depending on your business needs.
---
If your company is not currently linked to any HR systems (i.e: BambooHR), please contact your eduMe Customer Success Manager to find out what systems we support and how to get started
What's Covered
Unlinking a Bamboo HR Training
Linking a BambooHR training
Prerequisite
You've created a course to link to BambooHR.
Process
To link a BambooHR training:
Navigate to the course you'd like to link to in your eduMe admin panel.
Select the Settings icon.

Select a Bamboo HR training from the drop down menu in the Linked Training Records section.
Select Link to link the training with eduMe.


Once the training is linked, select Publish Course. When the course is completed, it will automatically update in BambooHR.

You'll find the completed eduMe linked training under the Training > Completed section on BambooHR.
Unlinking a Bamboo HR training

To unlink a BambooHR training:
Go to the Settings tab on the course in the admin panel.
Select the Unlink button.
Select Unlink training record to confirm.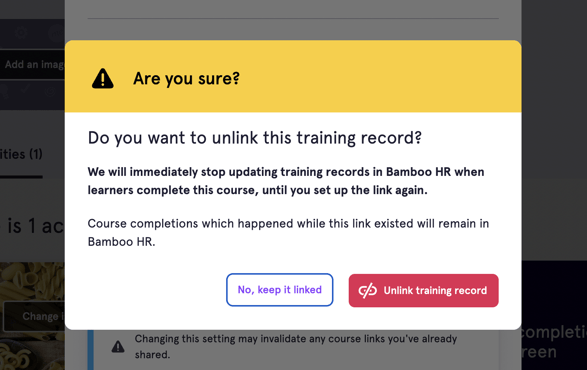 ---