eduMe has rebranded to better reflect us as a company and to better represent our customers. There have been a few design changes and some functionality changes but you don't need to do anything, just enjoy a better, easier to use product.

From March 8th 2022, you may notice things look a little different, both in-product and on our website and help center. Different companies rebrand for different reasons - for us, our old brand no longer conveyed who we are today or where we're headed.
A large part of creating our new brand was considering how we could improve the experience and appearance of the product for you.
We know that for many customers, having a Learner experience that looks and feels like your own brand is important, to create an experience that is seamless through-and-through.
How are things changing for me?
The biggest changes to the Admin platform are our new colors. You'll see that the main interactions, such as buttons and links, have been changed from dark green to purple.

We have also improved the color contrast of text so it should be a lot easier to read, especially for people with visual impairments.
There have also been some tweaks to spacing and layout to help improve the user experience, most significantly in the slideshow builder. Here we have improved focus by enlarging the editing panel and removing some of the less useful components.
We have also moved the 'Activity Overview' panel from the bottom of the screen to the left hand side, so that the main phone preview is fully visible. These changes don't alter any of the existing functionality, so you'll be able to use all the same features as before.
(Before)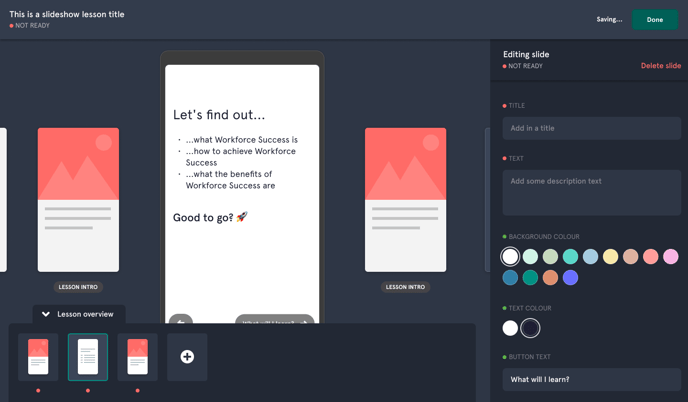 (Now)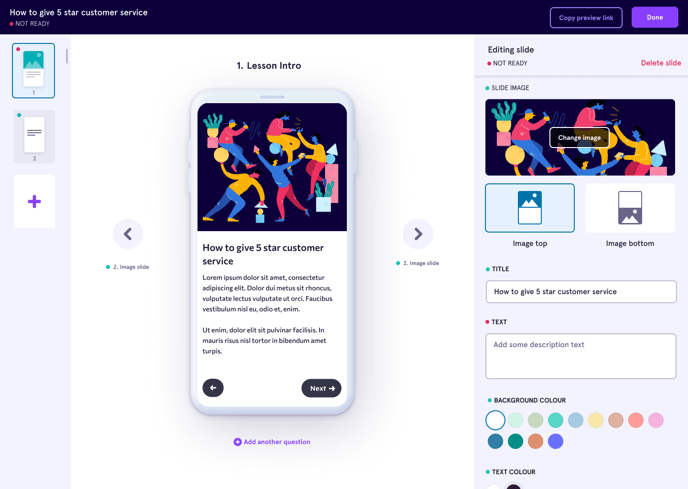 ---
How are things changing for learners?
The Learning experience also benefits from some color updates. These are used more sparingly so your Learners will largely get a familiar experience they're used to.
The most significant change is to the course list, using colors for each item in a more subtle way so that they combine well with your chosen company colours.
We have also improved contrast of text, so that your Learners will be able to clearly see the course details, every time.
(Before)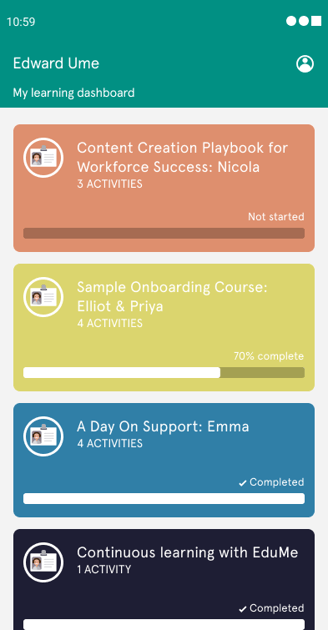 (Now)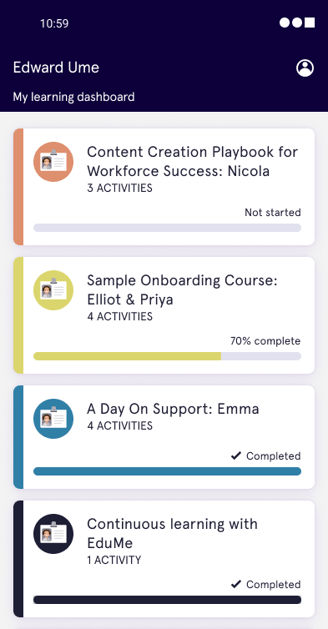 What else is changing?
Along with the functionality changes above, you will see our new logo, brand and some smaller design improvements across the product. But this isn't the end of it, we will continue to introduce a whole host of improvements to our product over the coming months and always welcome your feedback about these changes.
There is also a brand new eduMe website going live on the 8th March which you can find here and a new look Knowledge Center which makes it easy to navigate around our extensive help articles.