Knowledge Hubs are course libraries for your workforce.
Note: The seamless dashboard is now replaced by the Knowledge Hub.
As an admin, you can create a Knowledge Hub as a way to categorize courses by subject. Some examples of what you can create a dashboard for, include:
Safety and compliance
Earning tips
First 30 days of onboarding
Motorbike safety
The categorization of content in the Knowledge Hubs allows learners to find content easily. It also encourages better understanding of the context.
You can generate and use seamless links to direct learners to the Hubs. If you'd like to customize the Hub to align with your brand, get in touch with your customer success manager with the following requirements:
Header colors
If you'd like to organize course card in To-do and Completed tabs
The parameter you'd like to sort courses by - Course title or Last published
Name of the course list
Border radius
Brand logo URL
Style of the course card - with or without an image
Here are a few examples of how the Knowledge Hub can be displayed to your learners: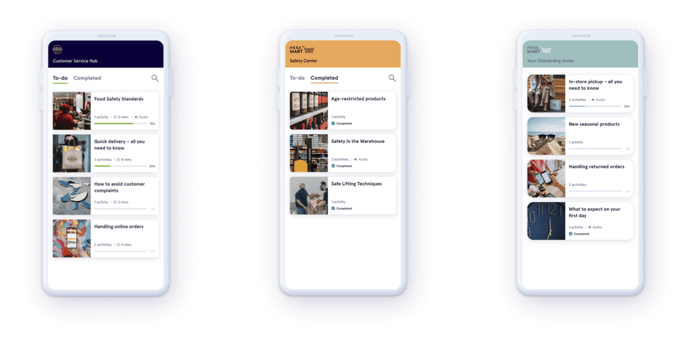 Related Articles