Learn how to add, build and manage assessments
What's Covered
Editing and deleting assessments
---
What are assessments?
Assessments are course activities that are designed to test your learners' comprehension of a given topic. Unlike lessons, assessments do not include any general learning slides. Instead, you'll be able to test your learners' knowledge with a series of questions.
If you wish, you can set a minimum pass score. This allows you to determine what score a learner must reach in order to pass the assessment or continue their course.
Adding an assessment
Assessments need to be added to courses. Don't have a course yet? Take a look at our article on adding courses to get started
If this is the first activity in the course, click the Create an activity button. If not, select Add new activity

Select Assessment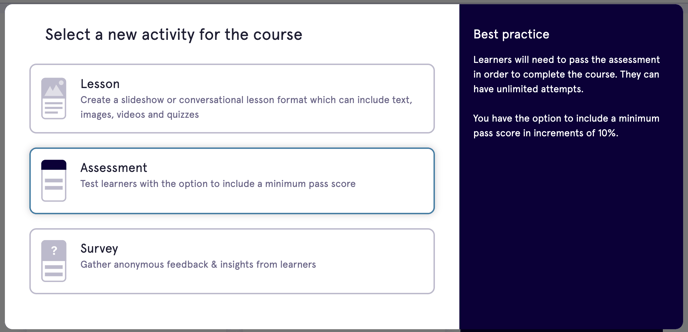 Add a title for your assessment, then click Create

Assessment intro: provide your learners with a brief introduction to the assessment and add an optional image
Interactive slides: this section will include all your quiz questions. We've added a title slide and an example questions slide which you can edit
Results slide: once your learner has answered all questions, they will be presented with their score and an optional message hereIn the assessment editor, you'll see three sections in the overview panel on the left, including a few pre-created slides:


Building an assessment
Build your assessment by editing the required fields on each slide. Edits will automatically be saved. If you want to exit the editor at any point, click
Done
in the top right-hand corner and your changes will be saved.
Mandatory fields are marked with a *
Minimum score required - If you've set a minimum score, this figure will display here
Attempted - The number of unique users who have started and finished the assessment
Passed - The number of unique users who have successfully completed the assessment and achieved the minimum score (this will only display if you have set a minimum score)
Average score - An average score calculated from all attempts made (includes multiple attempts by the same user)
To view a detailed report with the assessment results, click Download report to generate a CSV file. Here, you'll be able to view:
User information (name, email/phone, user info/identifiers, user activation date)
Assessment completion status
Assessment attempted date and time
Minimum score (if this has been set)
Attempt number ('1' = first attempt; '2' = second attempt etc.)
Individual question score ('100%' = correct; '0%' = incorrect)
Overall score (percentage of all questions answered correctly)