Start by planning how you'd like to organize your teams before creating Knowledge Hubs.
Some questions to think about would be:
What content would you like learners in different teams to see?
Based on your answer to 1., how would you like to categorize your learners?
Now you can begin thinking about how you will map each team to your user properties, before generating the base link in the admin panel.
We recommend that you start by creating a team for all your learners. You can now share announcements and mandatory trainings that are common to everyone. Some examples might include diversity training, safety courses, and holiday announcements.
You might then want to create additional teams based on different user properties. This would be for educational material specific to different roles in your company or compliance based on territory. You could also build teams under a specific topic, such as onboarding and safety.
Here is a sample use case: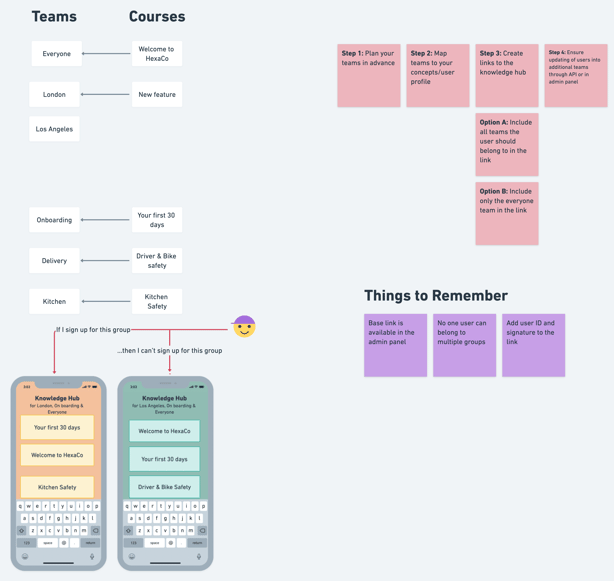 In this example, there is a team called Everyone that consists of everyone in the organization.
There are teams categorized by locations for New York and San Fransisco.
There are also teams such as onboarding, safety, and one specific to bikes. Categorizing by theme, or learning objective, helps deliver relevant courses to the right learners.
Common Implementation Questions
Can I remove a course from the dashboard of a specific user?

The user will always see a list of all the courses connected to all the teams they are in. If you'd like to remove a course from the list for that user (example is if some course has expired or not relevant), you'd have to remove the user from the team. Alternatively, you can remove the course for all users.

What if I already use multiple groups to categorize users based on location? Will I need to create a Knowledge Hub dashboard specific to each of my company's 'groups'?

Yes. This will enable you to future proof your learning content for the incoming multi-hub narrative. We strongly recommend that you begin by creating one Knowledge Hub to prove how you want to manage content for your use case.
Related articles
Knowledge Hubs